Aged care resident Marie Morris says she would be very lonely if she didn't have the hens to look after at her nursing home.
Ms Morris is a resident at Whiddon Kelso, where four Chinese Silky hens live and are cared for by residents, and are incorporated into creative and community activities.
The hen-keeping program – HenPower – was featured on SBS's 'Insight' program last night, where Ms Morris explained the importance of the hens to her.
"I grew up with animals – chickens, ducks, ferrets, dogs, magpies. You name it, we had it," she said.
"When I pat the chickens, it feels like home, and brings back a lot of memories," she told Insight.
Ms Morris looks after the hens from morning to night, and admitted she worries about foxes. "As long as I can see them, they're alright," she said.
Hens make great pets
Karn Nelson, Executive General Manager Strategy and Innovation, Whiddon, told HelloCare chickens make great pets.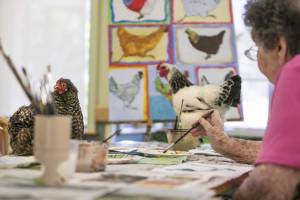 "They are relatively easy to set up in the garden of the care home and to look after. Residents can engage and interact with them on any level so they work well in a community," she said.  
But HenPower is more than just chook keeping, Ms Nelson said.
"It involves creative activities, and provides residents in the care home with good opportunities to make new friends and create deeper bonds. It can really transform their experience of the care home environment and improve their quality of life and overall health."
"The program sees residents nurturing hens and participating in social and creative activities based around hen keeping."
Hens are a great conversation starter!
"The chickens provide a great opportunity for residents to connect with each other through HenPower inspired arts and crafts activities and through sharing memories of keeping chickens – they're a great conversation starter," Ms Nelson said.
"Some residents enjoy caring for the chickens, others love spending time stroking the chickens, which has a very calming effect.
"For others, the chickens have helped them form special bonds with younger generations, like for Marie and her great grandchildren who bond over the chickens – it's the first thing they chat about when they visit," Ms Nelson said.
Helps to build community connections
HenPower creates opportunities for local communities – such as schools, kindergartens, volunteers and community groups – to get involved with the nursing homes.
"Fostering close connections with the community and maintaining social interaction, interests and activities is absolutely essential to the wellbeing and health of older Australians," Ms Nelson said.
HenPower is a creative ageing program that was developed by UK charity, Equal Arts. Whiddon was the first aged care provider to bring the program to Australia.
"HenPower was successfully trialled in four of Whiddon's residential care homes across NSW and quickly showed health and wellbeing benefits from residents looking after hens and participating in the creative ageing activities.
Ms Nelson said that residents' quality of life improve significantly after the HenPower program was introduced.
"In feedback from semi-structured interviews, there were consistent themes as to why their quality of life had improved. These included residents' experiencing a sense of empowerment through caring for the chooks and being able to undertake chores, the increased social connection that the program brings, and improved physical and mental health from more incidental exercise," she said.
"We also measured the effect on depression using the Cornell. Here we saw depressive symptoms reduce significantly, particularly for those residents with dementia.
"This was supported in the qualitative feedback where residents talked about the soothing effect of stroking the chooks, and how interacting with the chooks made them feel happy and forget all their worries."  
Trial had greatest benefits for those living with dementia
"One of the interesting things we saw from the trial was that we saw that the benefits were more significant for those residents with dementia," Ms Nelson told HelloCare.
"My hypothesis here is that people with dementia quickly lose self confidence in social situations, and the great thing about HenPower is that it makes it very easy for them to bond with others.
"The regularity is also very helpful as most of the residents involved in the program meet every day, morning and afternoon to admire the chooks together.
"Also, many people with dementia have some form of depression or anxiety, and the therapeutic effects of stroking an animal or chook are particularly beneficial."  
Due to the success of the trial, Whiddon has implemented HenPower in a number of its aged care services in regional, rural and remote NSW.
Main images: Marie Morris, on Insight.