Members of HelloCare's Aged Care Workers Support Group have written they are furious they have had their opportunity to be vaccinated taken away from them, many having waited for months to receive the jab.
"Can't believe after waiting two months for my jab that it's been cancelled for a year 12 student and I have to rebook at a later date! First jab was due Wednesday," one wrote.
The government text message said, "Pfizer vaccines are being redirected to assist in vaccinating Year 12 students in South Western and Western Sydney to help them return to face-to-face teaching.
"This is to advise your vaccination appointment will need to be rescheduled."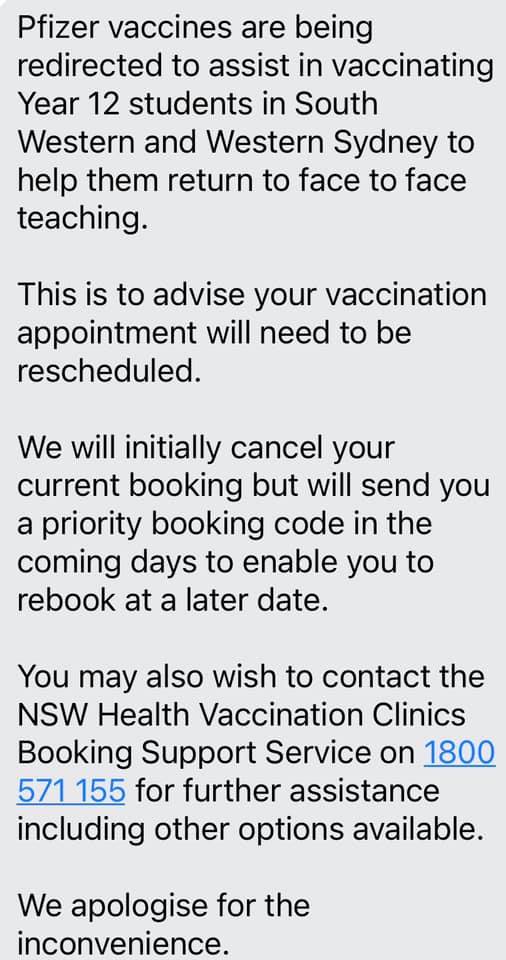 While the NSW government is redistributing Pfizer vaccine doses from rural and regional areas to help HSC students in local government areas most affected by the COVID-19 outbreak, priority groups 1A and 1B should be exempt.
Aged care workers are in phase 1A, and it was initially planned they would be fully vaccinated by the end of March. 
However, recent data from the government reveals only 43% of aged care workers have received at least their first dose, and only 25% are fully vaccinated. 
Vaccination rates among home care workers are even lower. 
Operator RSL Lifecare told The Guardian last week only 5% of its 570-person home care workforce is vaccinated.
Aged care workers who have had their vaccine appointments cancelled are from regional areas, where case numbers are low or zero.
Sonia Hornery MP, the member for Wallsend, said premier Gladys Berejiklian ordered thousands of vaccine appointments at the Belmont Mass Vaccination Hub to be cancelled.
Those in priority groups 1A and 1B, such as healthcare or aged care workers, should not be affected, she said. 
"If  your appointment was cancelled, this was done in error and you can email [email protected] and have your appointment reinstated," she wrote in a post on Facebook.
"Unfortunately, Health [has] also advised that there are no appointments for AstraZeneca available at the Mass Vaccination hub as yet and they should come online in a few weeks' time."
Hornery urged those disappointed by the cancellations not to take their frustrations out on staff.
"It is very important that you remember who is responsible for this decision, it is not the frontline health staff at the Hub or on the phones, so please be kind to staff who are doing everything they can to minimise the impact of these changes," she said.
Yasmin Catley MP, the NSW Labor Member of Swansea, also commented on the cancellations.
"HNE Health have advised some people may have received a cancellation text message for their vaccination appointment in error. 
"This includes people who had their appointment for the second jab cancelled, along with those in priority groups from phase 1A and 1B. This includes aged care and health care workers. 
"If you were impacted please contact [email protected] to have your appointment reinstated."
HelloCare contacted NSW Health for further information but at the time of publishing had not received a response.