Thredbo has renamed a run 'Frank's Face' to mark the 100th birthday of Australia's oldest living Olympian, Frank Prihoda.
Mr Prihoda competed in the 1956 Winter Olympics, and has lived and skied in Thredbo for 46 years.
He owned a shop in Thredbo – Frank's Place – and was once a fixture on the slopes of the alpine village. 
Video courtesy of Thredbo
A daring escape from Czechoslovakia
In 1948, Mr Prihoda and his sister, fellow Olympic skier, Sasha Nekvapil and her husband, Karel Nekvapil, emigrated to Australia. But their journey to Thredbo was treacherous.
To escape Czechoslovakia, Mr Prihoda left on cross-country skis, making his way to Vienna, Austria, where he obtained a fake passport and papers.
He operated a portable ski lift powered by an old army jeep for a time, and then moved to Belgium, where he spent two years waiting to emigrate. Australia was the first country to offer him a place to live.
Mr Prihoda and Mr and Mrs Nekvapil started one of the first ski-lodge businesses in Thredbo, making the village their home.
Retired skier still likes to hear of days on the mountains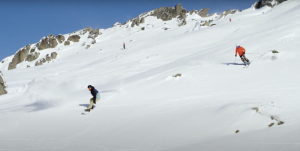 Now, Thredbo's 'The Tors' run has been renamed 'Frank's Face'.
"It doesn't get groomed," said Mr Prihoda in a video produced by TredboTV. 
"Frank's Face doesn't get groomed. It's just like my face. I don't do any grooming on it. That's me. Rough ungroomed terrain. The snow covers a lot of things. It's beautiful," he said. 
"I recommend it to everyone."
Mr Prihoda gave up skiing a decade ago, but he still likes to talk to his friends about their days on the slopes.
"Bad weather, good snow, soft snow, hard snow, sticky snow, ice, deep snow, hardly any snow whatsoever. But that experience, a lot of people appreciate it. They are real mountain people. 
"Go, and tell me how it is. Tell me about your experience. And keep your best turn for me," he said.
Image: ThredboTV.