HelloCare Exclusive – Part 1 in series of 4
There are many people, in every community, all over Australia, who need support because of ill health and frailty. Some are in hospital, or living alone, others are elderly and living at home, or living with the support of carers.
There are informal carers, who are often old themselves, who care for loved ones.
The Australian Aged Care Workforce Taskforce has these people at the front of their thinking.
The Taskforce has been established to develop a strategy for growing and sustaining the aged care workforce, and supporting the people who care for the elderly in our communities.
The Taskforce, that I am the Chair of, aims to reframe entrenched thinking, and to build a unified industry, unshackled by preconceived ideas, with one voice, and directed towards a common goal.
Our strategy for the industry is underpinned by 15 strategic actions that would help keep us focussed, honest with one another, and committed to seeing this industry change through to fruition. In this first article, my focus is on strategic actions to shape industry and leadership standards. Leadership by the industry is key to bringing about lasting, sustainable change so we can better support our workforce, and in doing so, ensure elderly Australians are able to live and die well.
Listening to everyone's opinion
Over the past six months, the Taskforce has worked closely with all parts of the industry to build an industry workforce strategy.
We consulted widely, capturing the views of providers, consumers, their families, workers, health professionals, volunteers, and informal carers from right across the country, including in regional and remote Australia.
The feedback from these thousands of hours of constructive dialogue have formed the foundation of our strategic vision.
At the heart of change must be a uniting industry-wide understanding of why the caring industry matters, and we have worked with the community and employees to craft a workforce vision:
We exist to inspire people to want to care,
enable people to properly care,
and enhance life through care.
Because how we care for our ageing
is a reflection of who we are as a nation.
This vision is crucial to expressing the truths that underpin the need for change.
Industry in the lead in changing societal attitudes to ageing
The Taskforce has heard from consumers, the industry and the workforce about the need for a change in the way Australians think of the concept of care. A social change campaign would help change attitudes and better recognise the contribution families, communities, and carers make to supporting the elderly.
We should celebrate the journey of ageing. How we care for our elderly reflects on who we are as a society. At the workshops and community consultations we conducted, many expressed guilt about their perception of ageing as a burden.
We should encourage people to see caring as the desire to enhance life and improve the quality of life for the person receiving care.
The key premise is that every person has the right to age their own way.
The campaign would focus on three messages:
Reframing caring as a social challenge that is broader than organised, professional care.

Attitudes towards ageing and dying must be addressed, involving society, government, and the industry working together.

Changing how the industry presents itself to the community.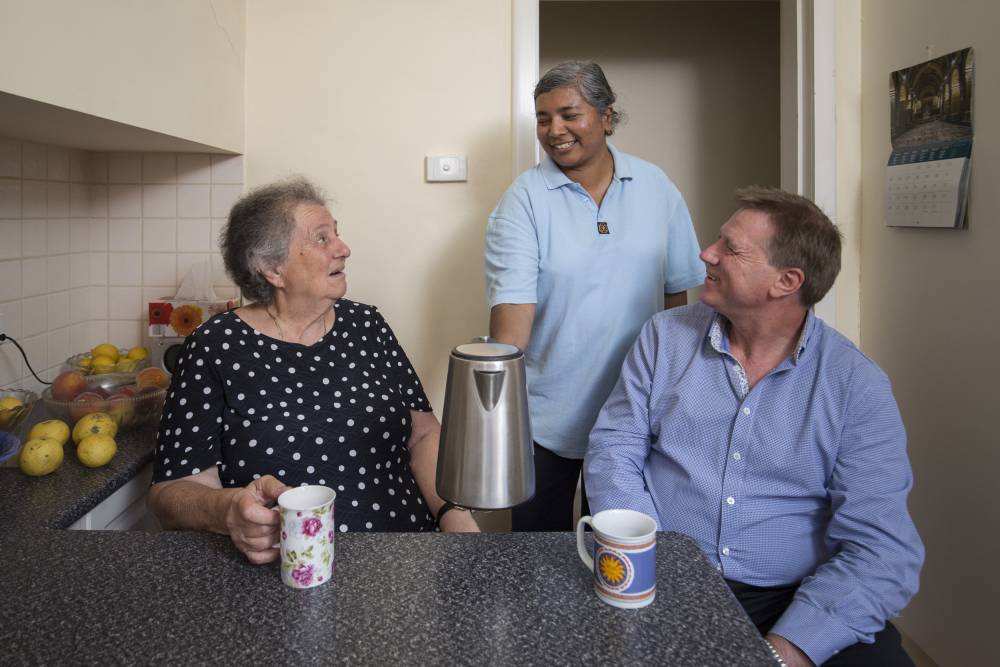 Voluntary industry Code of Practice
A Voluntary Industry Code of Practice would help the industry show greater leadership and drive change.
From consultations across the country, we know that consumers expect there to be a code of practice in the aged care sector, but there isn't one – leaving a significant gap.
The code must address consumer expectations, and must go well beyond clinical issues.
A genuinely endorsed and applied industry code, enables the industry to be approached first when issues about compliance and standards arise, as they inevitably do.
If the industry can show it is proactively taking responsibility with a code, we will see a shift from a compliance-based mentality to assurance for consumers and government.
A Voluntary Industry Code of Practice:
Will start with principles,

Will evolve over time,

Will build confidence in the governance process,

Should support continuous improvement around the key principles.
Culture of feedback and continuous improvement
A culture that encourages feedback and continuous improvement is essential.
During consultations, concerns about fear and retribution were often raised.
The workforce strategy will encourage a culture of continuous improvement that welcomes feedback and uses it to foster the growth of individuals, teams, organisations, and ultimately the industry as a whole.
There are four key components of a feedback culture:
Psychometric testing  recruitment process, as the start of ongoing professional development

Employee engagement surveys – such examples we are interested in are

CarePage

, to track real time feedback for employees and customers.

Customer surveys for both quality and satisfaction.

360 degree leadership feedback as part of ongoing professional development.
I am committed to making this strategy come to life and be much, much more than just words on a page. Accordingly, I will work with industry, consumers and the community – to enable the implementation of the strategy.
By industry and government working together to better supporting our workforce we can better support our elderly citizens.
Look out for John's second article, which will examine job pathways and careers in a rapidly growing industry and include strategic actions on reframing of qualification and skills frameworks, defining new career pathways, attraction and retention of the workforce, and improving recruitment and training practices for the Australian Government workforce.
By Professor John Pollaers