The experience of human touch becomes no less pleasurable or therapeutic as we age, and yet often the only touch that older people receive is related to tasks around their care.
But touch can be so much more. It is a way to let someone know we value them, even when they are old or unwell. It shows compassion, and it is a way to demonstrate we care.
Touch is also a way to remove some of the stigma surrounding age and illness.
When humans touch with empathy or kindness, their bodies produce oxytocin, the hormone that promotes bonding and closeness, and lowers the production of cortisol, the hormone associated with stress and anxiety.
Research has shown that touch is vitally important for older people, especially those living with dementia, and can lead to better health outcomes and improved wellbeing, as well as lowering levels of anxiety and reducing the incidence of people acting out their frustrations.
Touch has also been demonstrated to have the potential to improve the quality of life of older people living in nursing homes.
Compassionate Touch®
Compassionate Touch® is a training tool that has been developed by the AGE-u-cate Training Institute and offered in Australia through BrainSparks that uses skilled touch and specialised communication to improve the well-being of care recipients, carers and family.
It is particularly helpful in the care of those living with dementia and receiving end-of-life care.
Compassionate Touch can be used as a non-pharmacological way to manage anxiety, pain and sleeplessness, and reduces the likelihood of those living with dementia to act out their frustrations.
The program is easy to learn and integrate into any care program and uses existing resources. It builds trust in carers, and helps them to foster strong relationships with the care recipient.
Compassionate Touch is a person-centred approach to care, and a way for family to calm, comfort and support a loved one.
"It was magic"
Lynne Gardner, an AGE-u-cate Compassionate Touch master trainer, told HelloCare she has seen  first hand how this method helps carers in their role.
One recent student told Ms Gardner she used Compassionate Touch on a gentleman who was living with dementia and having trouble settling, which was causing his wife to become upset.
The carer put the man into bed, and attempted to make him comfortable, but no matter what she did, he wouldn't settle. The carer began to use the hand technique using slow strokes, palm to palm.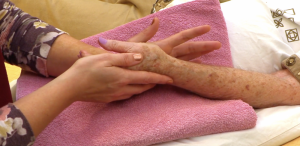 The man settled so quickly, the carer almost could not believe it. He took her hand and started to notice the rings on her fingers, and so they began to talk about them, slowly and quietly. It wasn't too long until the man put his head back on his pillows and drifted off to sleep.
Another carer told Ms Gardner that a woman who is living with dementia and who doesn't speak English responded very favourably to Compassionate Touch. When the carer had finished her usual care routine, instead of turning on the television – their usual activity – she took the woman's hand and began the Compassionate Touch strokes. For the first time, the woman made eye contact with the carer, and smiled, and then put her hands up to the carer's cheeks. The carer said she and the woman connected for the first time.
Another carer used the technique to help calm a husband who was upset about his wife's dementia diagnosis.  Compassionate Touch is not just for people with dementia, it can also help family members and carers to develop bonds and as a tool to reduce anxiety. It is not only the person receiving the touch who benefits, but the person giving the touch who receives those benefits too.
"It's something practical you can do," Ms Gardner said.

"As a paid carer, you want to help, but sometimes you feel useless. Compassionate Touch is a great tool."
To learn more about Compassionate Touch, you can attend a three-hour training workshop or a one-day practitioner training course to learn how to use the technique in facilities, communities or professional practices.  
You can find out more about Compassionate Touch by contacting Sue Silcox on 0402 319 361 or sue@brainsparks.com.au, or visit the BrainSparks website.