A 78-year-old Australian man has died "peacefully" after contracting the coronavirus, making him the first person in Australia to pass away from the disease.
The man and his wife were among 3,700 passengers on board the Diamond Princess cruise ship who were quarantined after cases of the virus were diagnosed on board.
But despite strict quarantine arrangements, the disease continued to spread.
The elderly couple were eventually evacuated from the Diamond Princess and flown to Howard Springs in the Northern Territory. Just over a week ago they were flown to Perth, where the man was kept in isolation at Sir Charles Gairdner Hospital.
The man's wife, who has also been diagnosed with the virus, issued a statement on Sunday saying, "My husband passed away peacefully knowing that this family loved him."
She remains in isolation in hospital.
Elderly most at risk
The fatality comes amid research showing older people are more likely to die from the coronavirus.
According to an epidemiological study of 72,000 coronavirus cases in China, people aged over 80 who contract the virus have a 14.8 per cent chance of dying from the disease.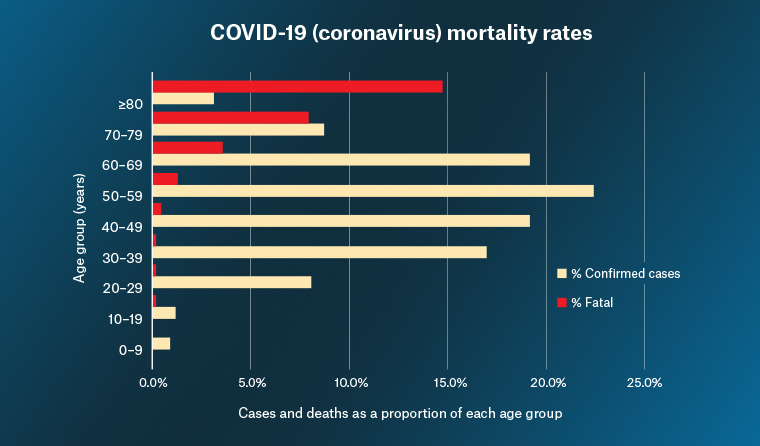 The Nurses Professional ­Association of Queensland's president Phill Tsingos told The Australian that the elderly and aged care residents will be particularly at risk if there is a widespread outbreak of the coronavirus.
"Our nurses worry for the residents, who are frail and vulnerable. And they worry about their own exposure, and if they get ill from the virus who will be available to look after people in the nursing home?" he said.
Aged care facilities not equipped
Mr Tsingos also said aged care facilities may not be equipped to deal with the spread of the coronavirus.
"Their airconditioning is not set up like it is in a hospital to contain bugs and they don't have all the personal protective equipment such as goggles, masks and full length aprons like a hospital would have," he said.
He said nurses should be given more information about how to deal with this specific virus.
"Our standard training gives us an understanding about how to handle an airborne virus in an aged-care facility, but coronavirus is a new situation and we are really looking for specific advice from the government about what to do to best contain it," he said.
Aged care workers recently in Italy, South Korea: stay away from work for 14 days
On Monday, federal Health Minister Greg Hunt said all residential aged-care or health workers returning from Italy or South Korea should not go to work for 14 days.
"The chief health and medical officers have recommended that if you are returning from Italy or South Korea, and you work as a healthcare worker or as a residential aged care worker, you should not attend your regular work for 14 days.
"This is an additional level of protection which has been advised by the chief health and medical ­officers and accepted by the Australian government," he said.
The University of Queensland is part of a rapid response program for the Coalition for Epidemic Preparedness Innovations. In February, the university issued a statement saying it has met a "key milestone" in developing a vaccine.
"You don't want to leave this world without someone holding your hand."
Premier Mark McGowan said the man's family would not have been able to touch him due to strict quarantine conditions.
The couple were only able to communicate during the man's final days through an isolation window.
"It would have been awful, they couldn't go in and touch him or hold his hand, it would have been so tragically sad," Mr McGowan said.
"You don't want to leave this world without someone holding your hand."
Image: The Diamond Princess. (Sid Modsell, flickr)