Benetas, a not-for-profit aged care service provider in Victoria, will today open its new St Paul's Terrace Aged Care Apartments in Frankston. The standout feature of this development for 80 people is a unique sensor floor that detects movement and helps the nursing staff monitor residents.
The Elsi Smart Floor system that Benetas has installed in the St Paul's Terrace Apartments uses technology designed in Finland by a company called MariCare. Palle Stevn, the CEO of MariCare, told Aged Care Report Card that the Elsi Smart Floor system is not just for calling alarms when a fall happens, but also for fall prevention and earlier detection of infection or new behaviour like wandering.
The Elsi floor is installed beneath the regular floor, and works by sensing what is happening as residents move around, similar to the way an iPad touchscreen works.
Palle said that the Elsi technology originated in Aalto University in Helsinki 11 years ago and was funded by the local government. "It was supposed to be used for brain damage research at hospitals," he explained. "It was supposed to be on the floor and the walls so it could monitor the movement of brain damaged patients, but it didn't really work, and so [MariCare] saw the system, and we got some ideas," he said. MariCare then bought the idea from the university, and essentially started working from scratch to create a sensor technology that could be used in an aged care setting.
Minimising Fear of Falling
Aaron Wyllie, Benetas's project manager for the Elsi flooring, said that falls in residential aged care are the leading cause of hospitalisation. "We know that one fall leads to more falls. So one of the things that we're most concerned about in aged care generally is that we know that once a person falls, they can become more fearful of falling, and it turns into a cycle where the person is moving less because they fear falling, and then they lose muscle mass and fall more because they're weaker," said Wylie.
Wylie said most aged care accommodation in Australia use a combination of wearable technology like alarm pendants and physical protectors like hip protectors or sensor mats. "All of them are somewhat effective but they're all limited in that they require the user to wear it and they might forget, or it's a constant reminder that they're old and they might fall," he said. "The sensor mats rely on staff putting them out, and knowing where to put them, which often doesn't happen."
Wylie said what Elsi offered was real-time monitoring. "It sits below the floor, we don't know what it looks like, old people can't see it and it provides information without anyone needing to remember to turn it on, without anyone needing to remember to wear something."
"It really fitted the bill for us in terms of getting a technology that was fit for purpose in terms of providing more information about why our residents fall, and how we can help to prevent that, but also in terms of how it looks and how older people experience it. It's not an obvious or interventionist kind of look."
Elsi System: Detecting Falls, Infections and Behaviour Change
Palle said the Elsi system not only shows activity in real-time but also records movement, which is especially helpful for nurses monitoring what happened overnight. "The staff can look and see how many times somebody gets out of bed during the night, so nurses can see if someone goes to the toilet 10 times in a night, they can catch an infection early," he said. "The night is the most critical time for detecting change of behaviour, especially when we're talking about infection and toilet problems."
Nick Stehr, managing director of HLS Healthcare, the Australian partner of MariCare who is introducing the technology and product into the Australian marketplace, said Elsi flooring can be retrofitted into existing buildings, but it depends on the age of the floor. HLS has waived a significant portion of the $650,000 cost of the Elsi flooring at St Paul's Terrace.
There are now approximately 3000 apartments installed with Elsi flooring in Finland, Denmark, Sweden, Norway, France and Australia. MariCare says Germany and the UK will also use the system in 2017.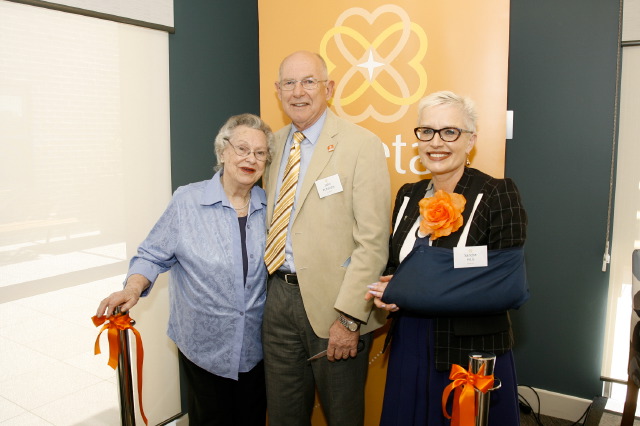 Cutting the ribbon Mrs Alice Harris (a resident from St Paul's Court since 2010), John McKenzie (Chairman, Benetas) and Sandra Hills (CEO, Benetas)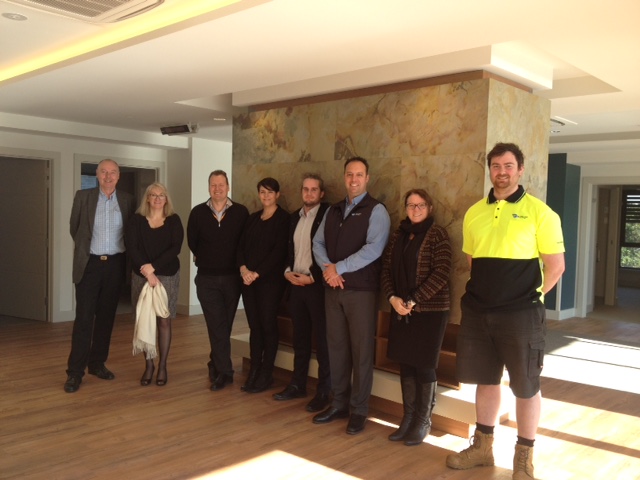 The team that made it all happen (from left to right) Palle Stevn, President of Maricare Finland, Paula Trood, General Manager Residential Services and Quality & Compliance at Benetas, Nick Mason, Project Manager, Development & Construction, Sophie Mepham, Innovation, Policy and Research Manager at Benetas, Aaron Wyllie, Research Assistant at Benetas, Nick Stehr, CEO HLS Healthcare, Kate Kelly, Strategic Projects Manager, Residential Services at Benetas, Julian Skipper, ELSI technician, HLS Healthcare