We all benefit from having our senses stimulated, and that doesn't change as we grow older. But for aged care residents, sensory stimulation can become more challenging due to health conditions that restrict mobility and strength, or cognitive impairment, such as dementia, that can affect the senses.
Our senses help us navigate the world, providing our brains with information that is essential for us to survive. 
Those living with dementia can experience impairment of their senses (such as loss of sight or hearing, or both), impacting the ability to interact with the world. 
Sensory stimulation, the activation of one or more of the senses including taste, smell, vision, hearing, and touch, can provide many benefits, from decreasing agitation and restlessness, to improving sleep.
In fact, research suggests that sensory and memory stimulation can greatly improve quality of life for aged care residents and those living with dementia, providing both physical and emotional comfort. Sensory and memory stimulation can also reduce the use of pharmacological treatment among aged care residents.
Improved communication
A recent review of 30 research papers published in the National Center for Biotechnology Information (NCBI) highlights the ways that sensory and memory stimulation can improve the lives of those living with dementia in residential aged care facilities.
The paper identifies a number of research 'themes' that support the use of sensory stimulation. Improved communication was the most commonly identified theme, with participants noting it improves verbal and nonverbal communication between those living with dementia and staff and loved ones. Staff using sensory or reminiscence therapy felt more connected with residents, and residents were able to engage with others in a relaxed way. Family members were able to connect with residents in a positive way too, especially through reminiscence therapy where they could talk about old times with their loved one.
Enables 'person-centred' care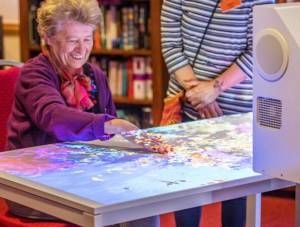 Another common theme was that sensory and memory stimulation enabled staff to provide more 'person-centred care', care that is respectful of, and responsive to, the preferences, needs and values of the individual person. 
Sessions are often one-on-one, giving staff a better understanding of the resident, their life story, and their personality. 
"As staff were educated and exposed to the personhood of the individuals they were caring for, negative pre-existing beliefs about ageing and dementia were dispelled, and overall staff attitudes improved," the paper notes.
A calming effect
Sensory and reminiscence therapy also helped to reduce pacing, verbal agitation, exit seeking and poor eating habits, according to the research review. Images and music from a resident's childhood seemed to have a particularly calming effect. 
Alleviated depression
Sensory and reminiscence therapy also appeared to alleviate feelings of depression, loneliness and boredom. It helped residents to feel that staff understood them better.
Food intake increased
As well as the psychological benefits, the paper notes research showing there are physical benefits to sensory and memory stimulation too, such as improvements in daily living. Of particular interest is the observation that appetites and food intakes increased.
Sensory stimulation activities in residential aged care 
Sensory Wizard's OM Interactive (OMI) Projector Systems are motion-activated projections that combine games, music and social activities to provide an immersive sensory experience. The applications and effects can be projected onto a table, a wall or the floor for an immersive interactive experience. Distributed exclusively in Australia by Sensory Wizard, the OM Interactive Projector System has been developed with over 100 available software applications and effects designed for aged care residents and those living with dementia. 
Sensory Wizard has also developed software packages for children living with autism and special needs. 

Sensory Wizard can customise the content, meaning a resident's memories through photos, videos and music can be loaded into interactive games, allowing the resident to take a trip down memory lane.
A 2018 independent study looked at the benefits of OM Interactive Projectors in 10 care homes in the United Kingdom. The study was conducted through interviews and surveys of families and residents.
The OM Interactive Projector was assessed as being a great facilitator of social interactions in the care home. Eight out of 10 of those surveyed said the device helped residents, families and staff spend quality time together. It's "a great way to pull families into activities with their relatives as it engages everyone," one participant commented.
Even usually withdrawn residents are easily engaged in the activity.
"It gets some of the residents who don't usually get moving to get interacting," one participant noted.
Almost 95 per cent of those surveyed said the projectors had a positive impact on the residents' physical ability, participation and movement. On average, 88 per cent of participants independently stretched beyond their immediate reach.
One noted "the residents are reaching across the table and not noticing they are being physically active."
The games can even draw out the residents' competitive spirit.
"They are moving and stretching as they play the games. The residents have become quite competitive, which is lovely to see," one staff member noted.
The projectors also helped with resident well being, with 83 per cent observing the OMI Projector had an impact on the residents' overall emotional well being. 
"Smiles, laughter and enjoyment" were a common response, one participant observed. 
The OMI Projector was also useful as a tool to calm residents if they became agitated, the study revealed.
It is well established that reminiscence therapy is beneficial for the wellbeing of aged care residents, yet even so, the researchers were surprised by the level of reminiscence they observed. "Residents were talking and laughing about memories and previous experiences as well as singing and mouthing the words to songs they loved," they said. 
OMI projections easily personalised for maximum enjoyment
Sensory and reminiscence stimulation is now widely accepted as a therapy for aged care residents, especially those living with dementia, and as a proven alternative to pharmacological treatment. 
Sensory Wizard's OM Interactive Projectors can be fixed in position or mobile and are easy to use, delivering the benefits of reminiscence therapy and sensory stimulation: improved physical and emotional wellbeing, better engagement between staff, residents and families, and the potential for good old-fashioned fun.
The mobile model (OMi Mobii) is compact allowing for ease of movement between individual rooms, pods or facilities and can be easily sanitised. 
Sensory Wizard is the exclusive Australian distributor of OM Interactive Projectors. For more information visit their website or call (07) 5524 2677.
Sponsored content.