Omnicare Alliance is a community impact organisation with a focus on aged and disability support on the Mid North Coast, following the merger between HDRC Services, Meals on Wheels MNC, Hastings Home Modifications & Maintenance, Parklands Cottage and Hastings Headway.
Omnicare's organisational purpose is to engage, include, connect and support; with our core value being 'first about community'.  Our programs are centred on ensuring clients remain living independently in their own homes for as long as possible and in maintaining positive and healthy connections within their community.
Pre-merger, over the past 30 years, HDRC Services (formerly Hastings District Respite Care) delivered respite services to people living with dementia and disabilities in Port Macquarie, NSW and surrounding districts from four (now six) dementia-specific centre based facilities.
The Port Macquarie-Hastings region currently has the second highest prevalence of dementia in NSW after the Myall Lakes districts (Deloitte Access Economics 2011).
In 2014 HDRC Services began the process of integrating the principles of a Montessori for dementia approach into our community-based centre programs. The program is based on Wellness, Innovation, Support, Enablement and Research (WISER) aimed at improving the quality of life for people living with dementia.
What is the Montessori approach?
The Montessori approach seeks to enable the person with dementia to be as independent as possible for as long as possible through sensory, social, cognitive and daily living activities (Alzheimer's Australia 2013). It focuses on enabling individuals to maintain their independence, continuing a meaningful role in the community, and retain their self-esteem (Camp 2010).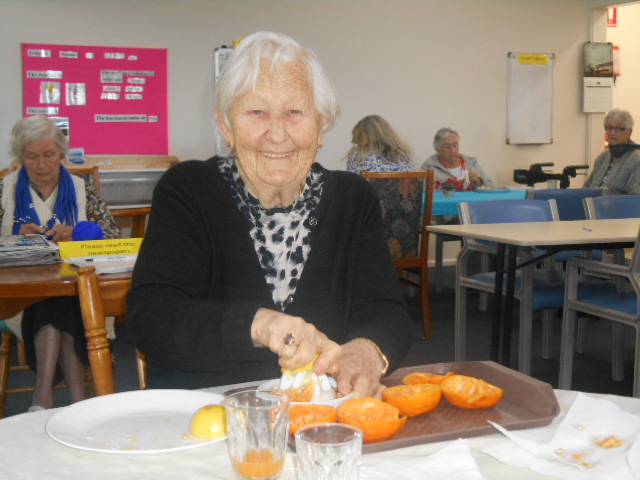 The use of the Montessori approach in dementia looks at the individual's skills, abilities, interests and needs and creates programs to help maintain cognitive and physical function (Camp 2010).
Why we introduced a Montessori approach?
The use of the Montessori approach has demonstrated positive results in alleviating stress and encouraging individual participation, constructive engagement and improved wellbeing. The approach offers the potential to raise the standards of person-centred care, while empowering clients to live well with dementia and enriching the lives of their carers and families.
Studies of the Montessori approach in residential care have demonstrated an increase in meaningful and unprompted engagement, and a decrease in negative mood, as well as tangible improvements in the quality of life of residents with dementia (Roberts at al 2015).
The supported environment at the six centres is now structured to enable clients to be involved in routine and everyday functions. Roles include welcoming fellow clients, setting up morning/afternoon tea, lawn mowing, checking oil and water in company vehicles, or running reading and art programs for fellow clients. These activities are therapeutic to both program deliverer and participants, matching individual strengths or preferences (Sheard 2016).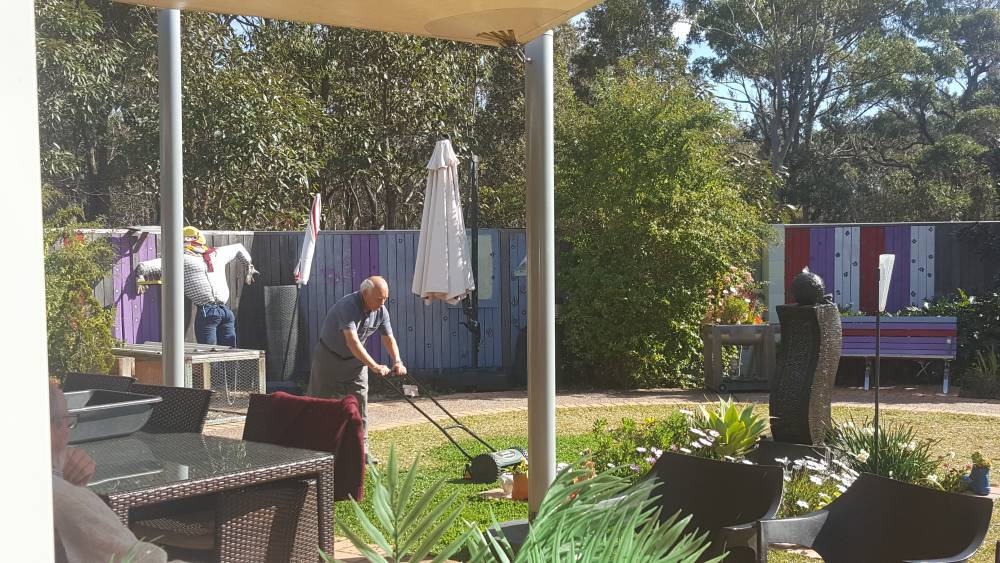 The RED Conference – A Regional Experience in Practical Dementia Care
The concept of Living Well with Dementia has been the theme of Omnicare's regional dementia conference, which in 2019 will be in its second year.
The RED Conference, A Regional Experience in Practical Dementia Care is being held from March 28-29, 2019 at Sails Resort, Port Macquarie; and will showcase regionally focused practical and hands-on approaches and practices in dementia care that can be immediately implemented to support people living with dementia in the home and other care environments.
The Montessori for Dementia approach is a key focus of the conference, with American Montessori for Dementia expert, Dr Cameron Camp the events first keynote speaker. Dr Camp presented at the inaugural conference and will return to the stage in 2019 over both days of the conference. Dr Camp will discuss engaging people in the community and within their own homes and how to respond to a person's changing behaviours.
Dr Camp will also hold a one day pre-conference Masterclass on Enabling Persons with Memory Impairment to Learn New Procedures on March 27, 2019.
The conference's second keynote speaker is Lesley Palmer, Chief Architect at Dementia Services Development Centre, Stirling University, Scotland. Ms Palmer will also speak across both days of the conference and discuss dementia and design and the future of designing for enabling environments, current research and the use of technology.
Professor Joseph E Ibrahim from Monash University will be presenting his international award winning animated short film 'Dignity of Risk' which promotes choice and improving the quality of life for residents of care facilities.
This inspiring conference will feature a number of other leading international and Australian speakers across both plenary and workshop sessions.
If you work as an allied health or medical professional, residential and community care professional, service provider, recreation activities officer, General Practitioner; if you're a person living with dementia, or a carer, and you only attend one conference this year, we urge you to join us in 2019.
Registrations for the conference and one day masterclass open in October 2018.
Email kara.n@omnicare.org.auto be kept up to date with conference announcements, or go to The RED Conference website for new conference updates at red.omnicare.org.au