Last night's episode of the ABC's Q&A, which devoted a whole hour to the aged care industry, covered topics anyone who follows the sector will already be familiar with, but it was two of the show's older personalities – a member of the panel and a member of the audience – who stole the show.
The benefits of intergenerational programs
Shirley McLaren found fame in her 80s when she appeared in the ABC's surprise-hit TV show, 'Old People's Home for Four Year Olds'. 
The program revealed to her the benefits of intergenerational activities. The four year olds showed "a great deal of care and compassion for the older people", and both young and old learned from each other.
Ms McLaren, who served in the Women's Australian Airforce for four-and-a-half years during the Korean War, asked the panel about the government's plans to fund intergenerational programs.
Both of the panel's politicians, the Aged Care Minister, Richard Colbeck and Labor's Shadow Minister for Aged Care, Julie Collins, acknowledged the benefits of intergenerational activities and said there are already programs in the community.
Sean Rooney, the CEO of Leading Age Services Australia, said the program "opened the door" to new models that enable community engagement and interaction.
"Role model for ageing well"
In the panel of politicians and lobbyists, Maggie Beer stood out for her energy and vitality. Over the last five years, Ms Beer has been trying to improve the standard of food served in nursing homes.
A member of audience described Ms Beer is an accomplished person in her senior years" who is a "recognisable role model for ageing well", and she asked the panel if we sometimes neglect our elders.
"Do you think we as a community need to make more of an effort to celebrate ageing so that we do not forget our elders," she asked.
Ms Beer said society should celebrate ageing. We have to have "respect for those who have lived long lives and gone through so many things that have made this country what it is today," she said.
"There's got to be joy in life. There's got to be pleasure," Ms Beer said, stressing the importance of food as we age.
Ageism behind sector's woes
Aged care advocate, Sarah Holland-Batt, whose father was abused while living in residential care, said ageism underpins many of the problems we are seeing in aged care.
"The reality is, most people in aged care spend all their days alone. They're depressed, they're bored," she said.
Mr Colbeck said we need to change the way we engage with older people in society. The way Indigenous Australians respect 'elders' provides a good model, he said.
Many would choose death over aged care
Joseph Ibrahaim, geriatrician, got the episode off to a grim start with his claim that "many people would rather die early than enter a nursing home.'
"Do you share their fears?" he asked the panel.
Aged care "has to change, and it can," Ms Beer said.
Mr Rooney apologised for the shortcomings in the industry. "I'm sorry these things have happened," he said. "We need to do better."
Little support for staff ratios
A question about mandating staff ratios received applause from the audience, but there was little progress in the debate. Using a phrase that many in the audience would have heard before, the minister said mandated staff ratios were a "blunt instrument" and there was no research to show they would fix aged care's problems. 
Prof Ibrahim was also not in support of mandated staff ratios. "I think ratios is a simplistic approach to a complicated problem," he said.
Prof Ibrahim said there was "no question" there was a need for "a minimum of staff", but on top of more nurses, physiotherapists, occupational therapists, speech pathologists, and psychologists were also needed.
It's how staff work together, not numbers, that will improve the aged care situation, he said.
Australia spends less than average on aged care
Mr Rooney said the industry desperately needs more funding. Aged care facilities need an extra $1.3 billion before the end of the royal commission, and $500 million annually to get home care waiting lists down to a minimum of 90 days, he said.
But Mr Colbeck did not commit to any funding increases.
"I can't make a commitment to something that hasn't been decided by government," he said.
Australia spends less than 1 per cent of its GDP on aged care, compared to the OECD average of 1.5 per cent.
"It's not a sustainable viable situation as it stands," Mr Rooney said.
Both Ms Holland-Batt and Ms Collins said greater transparency is needed in the way government funding is spent in aged care.
Greater dementia awareness needed
The panel agreed more training is needed to support people living with dementia, and not just training for care staff, but also for staff across nursing homes and in the community more broadly.
Ms Holland-Batt, whose father had dementia, said personal care staff, who deliver the majority of care, "don't really understand" dementia. 
"The fundamental ignorance of what's required (to care for someone who is living with dementia) is really alarming," she noted.
Professor Ibrahim said problems with the use of chemical and physical restraint have been known for more than 10 years, but a "lack of leadership" has hindered progress.
"The parliament's generally been gutless about addressing aged care issues for the last 10 to 15 years," he said, prompting applause from the audience.
"We lack respect for older people," he said.
"Penalties" for repeat offenders
Ms Collins said there should penalties for repeat offenders in aged care, operators who fail quality assessments time and time again.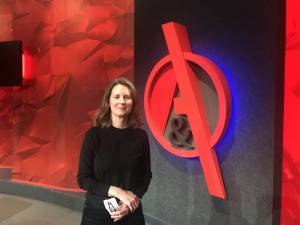 Mr Rooney said it's "in nobody's interest to have repeat offenders in our sector because they put at risk the people they are caring for, and they are damaging the other providers that are doing a good job."
Mr Colbeck said the government is meeting weekly with Bupa, in an attempt to get to the bottom of their problems.
But he said, "If they're not going to provide a service that's adequate, we don't want to see them in the system."
The ABC's reporting on aged care has been one of the key drivers of recent changes in the sector, and ultimately led to the launch of the royal commission. Last night's Q&A enabled the national broadcaster to again put the spotlight on the troubles facing the sector. The program brought the issues out into the public arena for discussion, consideration and debate, educating viewers and hopefully bringing us one step closer to resolution of at least some of the sector's woes. At the same time, the program forced us to reconsider how we think about aged care, ageing, and the aged.