Sharing more about herself, Edna spent much of her life caring for her precious son James, who has Down's syndrome, and is now able to live in assisted living accommodation.
Edna shares that prior to the pandemic she enjoyed living independently, but like many, "lost confidence" as the continued lockdowns prolonged social isolation. 
Home care manager Angela explains to the BBC's Good Morning Scotland, "The big 100 was spent at home alone in her home in Battlefield.
"We just feel that shouldn't have happened."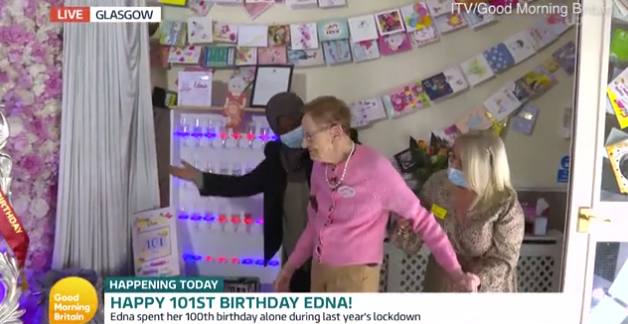 Thrilled with a breakfast of champagne and cake, the frivolities continued in the afternoon with Edna and staff heading off for a trip on a party bus tour of her beloved hometown of Anderson.
A true highlight arrived when Edna received a telegram from the Queen, a communication she should have received prior on her 100th birthday, yet it seemed no-one had made the application to the Anniversaries Office at Buckingham Palace on her behalf in 2021.
Many were taken with the TV segment, heading to social media platforms to honour the "adorable" moment and, of course, to wish Edna a very happy birthday. 
One user wrote, "Aww bless her happy birthday Edna 101 year's young."
Another shared, "Oh Edna you little darling happy birthday."
"Aww bless her. So lovely that the care home staff have made such a fuss of her. Happy Birthday Edna!" a third was happy to post.
A fourth said, "Aww bless Edna. Happy Birthday, lovely lady! Have the most wonderful day."