On Valentine's Day, Bill and Hazel share their story of everlasting love. In May this year the inspirational couple will celebrate their 65th wedding anniversary and an incredible life together.
Love at first sight
Bill and Hazel, now 88 and 82, first met through a group of friends at a football match in rural New South Wales. Friends at first, Hazel's mum was known for hosting Sunday dinners that the group attended and it was through these dinners that love began to bloom.
Hazel says that she "thinks it was love at first sight" and thought Bill was very handsome. "Bill is my life," Hazel shared. Not to be outdone, Bill says that Hazel was the prettiest girl he ever met.
Bill asked Hazel to marry him one night as they were driving home from the movies and the couple were married in 1953 in Wallerawang, in the church where four generations of their family have been married.
Family means the world to both Bill and Hazel, the couple have two daughters and a son, and they've just welcomed their first great great grandchild.
Their daughter fondly remembers a story her dad used to tell her about how he would sit Hazel on top of the fence to give her a kiss as there's quite a height difference between them!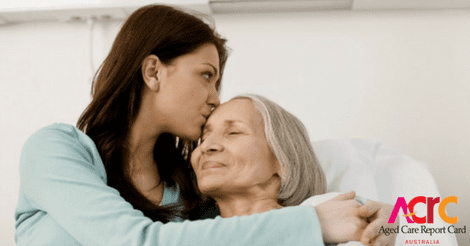 Bill and Hazel with their three children
"Talk to one another, don't get hot headed…work things out that way"
Bill now resides at a residential aged care home in Bathurst, and is visited twice a day by his beloved Hazel, who still lives at home in the community.
Proving that their relationship is as strong as ever, Bill and Hazel have never spoken a bad word to each other. Hazel shared that their approach was to "talk to one another, don't get hot headed, talk to each other and work things out that way".
On Valentine's Day Bill and Hazel will celebrate at a special afternoon tea event at the aged care home where Bill lives, before soon celebrating their 65th wedding anniversary in May.