"With wounds costing the Australian health system $3 billion every year and nearly half a million Australians suffering from chronic wounds every day – we need your support to spread awareness."
Each year Wound Awareness Week takes place to raise awareness of chronic wounds across Australia. This year's theme of Wound Awareness Week is "Let's Talk About Wounds".
We are encouraging more people to raise awareness of the rising issue of wounds, what wound symptoms are, and to encourage more people to go and see a wound specialist if their wound won't heal.
Research shows that 17-35% of individuals have pressure ulcers on admission to aged care facilities while another separate study showed that 57% of referrals to a home-care nursing service were for wound care. Though mostly prevalent among older adults, up to 2% of Australia's entire population live with recurrent ulcers of the leg.
Wound healing is a complex process, where injured tissue is replaced with new tissue produced by the body. To create the new tissue the body requires an increased consumption of energy and important nutrients, in particular protein and arginine.

What does research tell us?
Nutrition and Wound Healing: Studies have shown that there is a correlation between pressure ulcers, chronic wounds and those patients having low body weight, reduced ability to feed oneself and reduced food intake. It could be concluded that nutrition plays a vital role in the healing of pressure ulcers, and without the right nutrition the healing process is impaired and prolonged.
How do we assess people for malnutrition?
Malnutrition is under-recognised, under-documented and under-diagnosed. This may be because nutrition screening is currently not routine practice in many hospitals and aged care facilities throughout Australia.
Nutritional screening is a fast and easy way to identify someone who is malnourished or 'at risk' of malnutrition and could benefit from nutritional intervention to facilitate wound management. There are a number of screening tools available such as the Mini Nutritional Assessment (MNA®). The MNA® is a validated nutrition screening and assessment tool that can identify people aged 65 years and above who are malnourished or 'at risk' of malnutrition. The MNA® is available in 35 different languages, making it accessible for those whom English is a second language.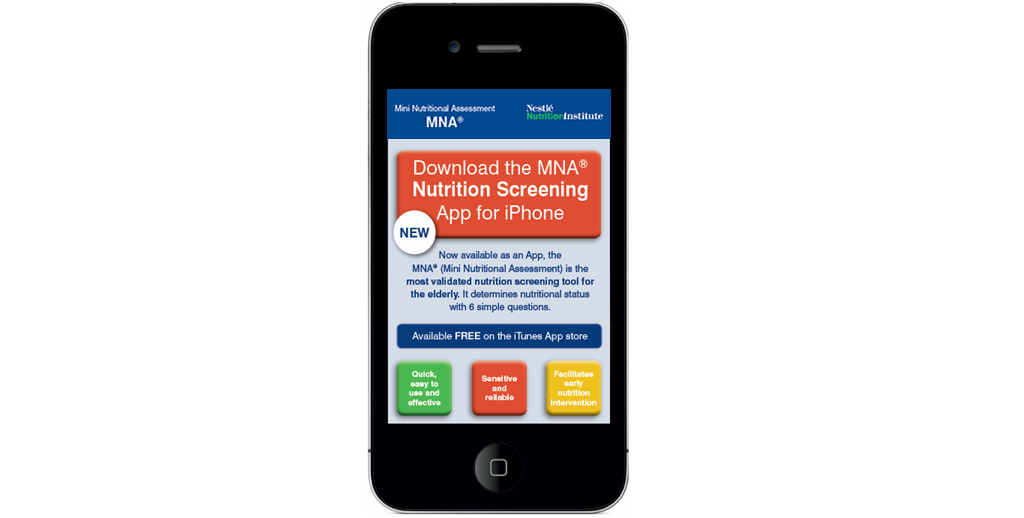 Factors commonly included in screening tools include weight history, body mass index (BMI), and recent food intake, physical and mental health. However, for people with limited mobility, recent food and fluid intake may be a better indicator of nutritional status. Though any unintentional weight loss is of concern, it should be noted that people who are overweight or obese can still have protein and nutrient deficiencies which can delay wound healing.
What nutrients do we need to support the wound healing process?
A healthy diet has a balance of different nutrients – and all are essential in the body's healing process. These nutrients are the building blocks of the human body, which include proteins and amino acids, energy, fats, carbohydrates, antioxidants and minerals. Eating a healthy balanced diet with a variety of nutrients is important for overall health and well-being. There are a number of nutrients that play an important role in wound healing. The role of each of these nutrients is explained below.
Energy
We eat food to fuel our bodies for energy, growth and repair. The main sources of energy for the body and wound healing are carbohydrates, protein and fats. During wound healing, extra carbohydrates and fats are needed to provide energy to build new cells, and fat stores are also required for cushioning3. Protein also provides energy, however the main function of protein is to provide the building blocks for new cells.
Protein
Protein is in everything from skin, hair, muscles and internal organs and are essential for the maintenance and repair of body tissues. A diet containing low levels of protein causes a decrease in the production of collagen which in turn slows down the wound healing process. Ensuring you are eating enough protein in your diet will help to achieve optimal wound healing rates.
Amino Acids
Amino acids are the "building blocks" that, when connected, make proteins. The most important amino acid that helps with wound healing is L-Arginine, which is involved in processes such as structural protein synthesis. In good health, the body can produce sufficient arginine to meet requirements. However, during wound healing, arginine requirements can increase and supplementation may be required. Dietary supplementation with L-Arginine has been shown to decrease muscle loss and collagen synthesis, which helps to increase the strength of the wound.
Vitamin C
Vitamin C plays an important role in collagen synthesis which helps strengthen the healing
wound as well as the formation of new blood vessels. Vitamin C deficiency can impair wound healing, and has also been associated with an increased risk of wound infection. Research has shown Vitamin C supplementation helps promote pressure ulcer healing.
Vitamin E
Vitamin E is an antioxidant, and plays a role in helping to protect the wound from free radical damage and enhance the wound healing process.
Iron
Iron is a mineral that plays a role in providing oxygen to the site of the wound, therefore iron deficiency can impair healing. Iron deficiency can also result in impaired collagen production and strength of the wound. Iron absorption from non-meat sources can be enhanced with Vitamin C.
Other important dietary factors
Hydration is important in wound healing as dehydrated skin is less elastic, more fragile and more susceptible to breakdown. Dehydration will also reduce efficiency of blood circulation, which will impair the supply of oxygen and nutrients to the wound. In long term care, dehydration is one of the most common problems affecting good nutrition.
What about nutritional supplements? Can these help?
Nutritional supplements cannot replace a healthy balanced diet, they can be used to increase energy and nutrient intake to ensure the body has what is required for wound healing.
Arginaid® and Arginaid® Extra (Nestlé Health Science) are nutritional supplements that provide the key ingredient L-Arginine. Arginaid® has been specifically designed to aid in wound management as it takes part in structural protein synthesis. Arginine is required in additional amounts when the body is under stress (e.g. wound healing) and research has shown that nutritional supplements with arginine help enhance protein metabolism, helping decrease muscle loss and collagen synthesis.
Through clinical research, Arginaid® has been shown to speed up the healing process 2.5 times faster than those who did not take the nutritional supplement. It is also a cost effective option for eligible Veterans (Gold, White & Orange card holders) as it is available at the subsidised cost of $6.30 per script.
There are other treatment options to consider to help aid the wound healing process, to learn more about what is suitable for you, consult your GP or healthcare professional.
How Arginaid® works? Mrs. Stevens' story will explain how
Let us tell you about Mrs. Stevens'*, a 91-year-old woman living with a diagnosis of dementia and a wound that just will not heal. Mrs. Stevens' has been bed-bound for the past two years and is cared for at home. She was admitted to hospital with an incredibly painful stage 3 sacral pressure ulcer that was approximately the size of a fifty cent coin. Her energy was low and after a blood test it showed that she had quite a few deficiencies that would slow down the healing process. Therefore this was a priority to resolve.
To treat Mrs. Stevens' wound, a specific bandage was used and changed every two to three days. This was part of a "pressure management" plan which also included a special air mattress prescribed specifically for people with pressure sores. Mrs. Stevens' also had a turning schedule since she was completely bed-ridden, to help with blood circulation and ease pressure areas. To help in the healing process, Mrs. Stevens' was given nutritional support of two Arginaid® Extra per day for two weeks.
Two weeks after the addition of Arginaid® Extra to Mrs. Stevens' diet, the wound's surface area decreased to about the size of a one dollar coin, around 66% of its original size. Healing continued at this rate for six weeks when the wound surface area had decreased to just slightly smaller than a five cent coin, 33% of its original size. Over the next five weeks the area of the wound decreased to 29% of its original size. Mrs. Stevens' was on the mend.
*Mrs. Stevens' name has been changed to protect her privacy
Arginaid® is now available on the Repatriation Schedule of Pharmaceutical Benefits (RPBS) for eligible Veterans (Gold, White and Orange card holders) with a Stage 2 or above pressure injury. Consult your doctor today.
For more information about Arginaid®, please call 1800 552 580 (VPAC) or 1800 671 628.