Today is International Day of Older Persons and we are celebrating by sharing the stories of older people who haven't let their age stop them from embracing life and making a difference in the lives of others.
We are pleased to introduce you to Mrs Elsie Pink, Mr Angelo Tucci and Mr Melvin Abbotsford-Smith.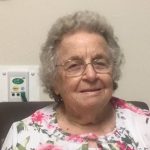 Mrs Elsie Pink, 92 years young
Meet the delightful Mrs Elsie Pink. Elsie is 92 and recently completed her first two university courses.
A resident at Opal Berkeley Village in Berkeley Vale NSW, Elsie ("not Mrs Pink" she insisted) decided further study was just what she needed to help ease the sadness when her husband of 70 years passed away a year ago this week.
She and her husband had "lived for each other" and his passing was heartbreaking. 
He was the first to move to Opal after being very ill in hospital but she joined him a few months later. In her own words "[after] his silly wife fell over in the bathroom in the middle of the night". 
Looking to help ease the pain for her husband's death, keep her mind active and offer some assistance to her fellow residents, Elsie enrolled online with the University of Tasmania in September of last year. 
When she had moved into the Opal home, she had been quite confronted by those living with dementia. Recognising she knew little about the disease, she decided it was time to better understand it. And with a friend diagnosed with MS, she decided to focus her studies on understanding dementia and multiple sclerosis. 
Elsie's classes went for three to four hours, but the online delivery meant she could spread the lectures over the course of the week. Asked how she went in the exams, she said "she was very blessed to be able to get through the quizzy thing at the end". 
Having spent some time chatting with Elsie it is no surprise she passed with flying colours.
As a school leaver, Elsie had wanted to go to university but her parents were unable to afford it. Instead she worked as a comptometer operator, working for the Department of Defence calculating soldiers wages and doing "maths and figures".
At 70, Elsie retired as office manager for a specialist surgeon. She had been in the role for 22 years and was responsible for management and doing all the accounting. She just "loves maths".
In retirement Elsie has switched her skills to writing. Every month she writes an essay about someone in her home that is published in the monthly newsletter. She likes to take the time to interview them and tell their life story. A little memoir that their family can cherish. And it's the story that counts. If anything isn't quite accurate it doesn't really matter – the main points are there and if "a date is a few years out" it's not a big deal.
Elsie believes it's important for people to talk. A lot of people are in their rooms and don't have much opportunity to chat. "If I can just go into their rooms and ask them a few questions, not to impose on their lives, but it helps…which is good".
She says a lot of people shut themselves away. She thinks it would be valuable to teach them to write again. "Because they don't write and don't read, which is sad".
Not Elsie though. She loves to read and is delighted by her home's library. She says "novels are good" and "interesting travel books". She's not "mad on murders". Recently she has enjoyed "My Love Must Wait" about Matthew Flinders sailing around Australia. She originally read it in school and was delighted to revisit.
Elsie would love the opportunity to study further "I would like to do more, but I can't find any [courses] that are free or short."
Having been a volunteer counsellor in her youth and believing that "God has put me here to help people," Elsie would love to study to be a psychologist but she points out that there aren't any short psychology courses. "[They are] all four years and 10-12 hours per week."
Elsie finished by telling me how happy she is living in her Opal home. "The people are wonderful, the care I get is fantastic, I have no complaints". Despite her clear vigour for life, she notes that she "needs care now". And as she marks a year since the passing of her husband she notes that the compassion she has received from her carers has been extraordinary.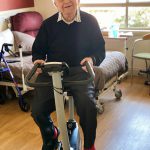 Mr Angelo Tucci, 100 years young
Sitting on his stationary exercise bike; smiling, healthy and fit, Angelo Tucci is one of the 60 residents that Belvedere Aged Care, in Nobel Park Victoria, has worked tirelessly to protect against the Covid-19 virus.
Angelo is 100 years old and possesses the mental and physical fitness of someone much younger.
One may not truly believe that he will, next month, celebrate his 101 birthday. An occasion both he and the Belvedere community hope to celebrate with his family and friends once it is safe to do so.
8 months on since the World Health Organisation announced the Covid-19 pandemic, Angelo feels safe in his residence. Attributing his good health to exercise and his daily social interactions with his fellow Italian residents, Angelo rides his stationary bike daily in the privacy of his room.
Under the watchful eye of staff, he mounts and dismounts with ease and with the flexibility of one much younger than his 100 years. Sitting proudly and tall on his bike, he smiles at the camera ready to have his picture taken.
"I lived in Italy and worked as a farmer, and then went to war. After the war I was in Germany and then came to Australia," Angelo recalls. "…the war was hard, but in life I have worked hard… and it has been a good life."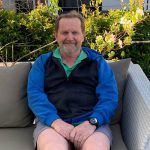 Mr Melvin Abbotsford-Smith, 69 years young
As we grow older, we have the opportunity to use the skills we have accumulated over our lives, but sometimes not in the way we expected.
Melvin Abbotsford-Smith, 69, is a resident of Arcare's new aged care home, Pimpama. Having had a 40-year career as a registered nurse, he moved into residential care at the age of 68 after experiencing problems with his health.
The move has gone well. Though Mr Abbotsford-Smith spent two months in hospital recently, he has quickly become a pillar of the Pimpama community – based to a large degree on the skills he developed in his former career.
As a nurse, Mr Abbotsford-Smith became a good listener, and learnt how to support people, skills he has been able to use in the aged care home with fellow residents.
"I'm a caring and helpful type of person," explained Mr Abbotsford-Smith. "If somebody's confused, I understand what's going on."
"One guy came in and he didn't know what day it was, and I used to take him to the dining room every day, now he can find his own way."
"I sit down and talk to them and find out how I could help them, and how they could have done things better, not in a blaming way, but just accepting who they are and pointing them in a direction that might be helpful to them."
"I've seen people come in from all walks of life. I can identify with people and I can help them. I enjoy doing that," he says.
He also helps around the home.
"I've got jobs I do every day. I fill up the fountain in the courtyard with a hose. I clean up debris on the path," and he has helped to teach residents about the importance of hand washing.
"It keeps me out of mischief," he says with a chuckle.
Mr Abbotsford-Smith was instrumental in starting a men's group a few weeks ago, and ensuring men are aware they can join.
"We're going to make a model plane, and then paint it ourselves. We've got plenty of people who have got the skills. We've got a special room where we're all going to meet, which is called the man's cave of course."
Mr Abbotsford-Smith has a genuinely caring nature.
"If I see somebody in the group who I feel needs special attention I'll call the carers to come and take care. I draw their attention to the person," he says.
COVID-19 has been difficult, but Mr Abbotsford-Smith has been able to use his nursing knowledge in his appointment to Pimpama's COVID-19 committee, which meets weekly.
He is philosophical about visitor restrictions.
"It's pretty tough not being able to see your friends and your family when you want, but everybody's in the same boat, so you've just got to put up with it."
"I've got one pal in the dining room and I ask him about his family. His daughter comes to visit him, and I talk about that with him." 
He always has company at Pimpama, so he doesn't feel isolated. 
"My family comes in when they can. I miss my two grandkids and my own two children. We just have to fit as much as we can into each visit." 
Being able to assist other residents "definitely helps" with living in residential care. "It takes my mind off my own problems. When you're helping somebody else, you realise your own issues are small," he says.
Residence manager, Vicki Cain, perhaps best describes the former nurse who continues to care for his companions. "He's got a big heart."
Main image: Mr Angelo Tucci riding his stationary bike