The close friendship of Sue Marsden and Margaret Dixon is truly a case of the stars aligning.
In December 2016, it was through pure serendipity that Margaret and Alan Dixon moved next door to Sue at Settlers Retirement Village, Forest Lake.
Sue introduced herself to the couple the night they moved in, armed with a home-cooked dinner, and a beautiful friendship was formed instantly.
"I thought, isn't that beautiful that Sue had brought over some dinner for us," said Margaret.
"Years ago we did that all the time, but now nobody does it anymore so I thought it was wonderful."
Margaret and Sue soon discovered they had a connection through the small adjoining country towns in central Queensland in which they were raised.
Sue grew up in the town of Tambo in the 1960s, with a current population of 345, and Margaret was raised just an hour away in Augathella.
Sue's interest was sparked when she spotted a "Tambo Teddy" in Alan and Margaret's living room.
Sue discovered that Alan passed through Tambo with his son and grandson about 15 years ago, and picked up the teddy as a memento.
"There is still so much for us to catch up on, and learn about each other," said Sue.
Married for 53 years, Alan and Margaret Dixon first met in Hong Kong where they were stationed in the army.
Alan being English and Margaret, Scottish, the couple have been blessed with three beautiful children, and six grandchildren.
Margaret has a passion for patchwork, and was quite active in the community, making quilts for the local school and the Wesley Hospital when she lived in Laidley.  Margaret also used to teach patchwork but is no longer able to do so due to her health.
On the other hand, Alan is described as "soccer mad", and even started up his own soccer club many years ago.
Since moving to Envigor, Alan and Margaret have been more than impressed, especially when they first met Executive Manager, Tracey Silvester, describing her as honest, straight-to-the-point and 'told us exactly how it was'.
"Envigor is so caring, it is almost unbelievable that you can have such good care," said Margaret.
Sue was forced to hide her Aboriginal identity for many years, due to her ex-husband's disapproval, and only started rediscovering her heritage about 12 years ago.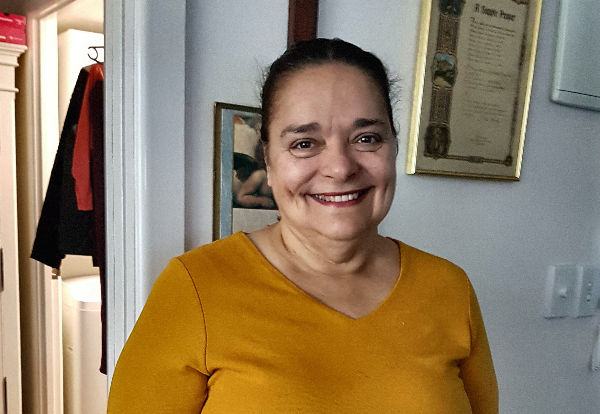 "I missed it because I really didn't know who I was, and now I understand what it means to me to be Aboriginal, and to be proud of it," said Sue.
Sue eventually left Tambo to become a Registered Nurse: "It was one of those things out west that most girls did, I really had a lot of fun and I enjoyed my nursing."
Sue now volunteers her time at the Inala Indigenous Community Health Centre.
"Being a nurse and coming from an Indigenous background, I can join into just about anything from cooking back to nursing, so it's exciting because as I'm Indigenous I am now considered an elder, which is such an honour."
Sue describes the services she receives from Envigor's Western Suburbs Brisbane Community Care Business Partner, Jan Green as "exceptional".
"Support is only a phone call away," said Sue.
"There have been a couple of times when I have needed help urgently, and Jan has always been there with the kindness of help, and it is very important that we get that help."
This real life case of love your neighbour as you love yourself truly is the caes for Sue and Margaret, two women who have been brought together by fate after living in small adjoining towns for years, and not being aware of the other's existence.
"I love my neighbours because you can just go outside your front door, and if you are feeling down, they pick you right back up and there is always someone to say hello to," said Margaret.
"It is a reward on its own just knowing Sue, and being able to spend time with her.
"Just knowing that she is there is enough."