A new press release from Shadow Minister for Ageing and Seniors, Julie Collins, has revealed the incredible numbers on home care waiting lists. These new figures allege that across the country, almost 100,000 older Australians are still waiting for home care packages.
"This is yet more evidence of the Morrison Government's neglect of our broken aged care system," Mr Collins says in the press release. 
"Older Australians are fed up with waiting for care at home when they have already been approved for it.
"It is completely unacceptable that the Morrison Government hasn't done more to fix this crisis."
A table supplied in the press release revealed that in NSW alone, over 30,000 older people have yet to receive their home care packages, despite their application being approved. 
According to News.com, Northern Sydney alone has more than 3700 older people still waiting on home care. Across the state, of those still waiting to receive their care packages, as of September 30, 2020, 1820 are waiting on level one, 14,760 for level two, level three has 12,677 people waiting, and 3403 are waiting on level four care.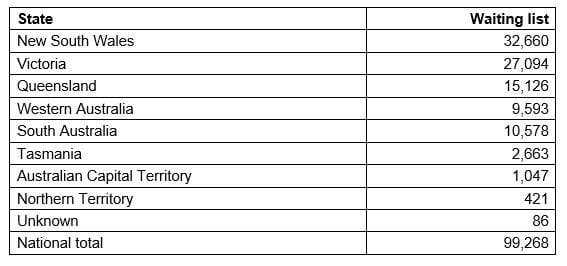 According to the press release, some older people waiting for high level home care are waiting almost three years after their application is approved, with 30,000 older Australians dying while waiting to receive their care package in the three years leading up to mid-2020. 
"Time and time again, the Morrison Government's announcements of new home care packages have failed to address the true scale of Australia's aged care crisis," said Mr Collins. 
"The Aged Care Royal Commission's interim report detailing the crisis in aged care was titled 'Neglect'.
"It called for urgent action more than a year ago but there are still 100,000 older Australians waiting for home care." 
Calling for the Morrison Government to step up and take action to alleviate the pressures on the aged care system, Ms Collins says that the evidence of neglect in aged care is being met only by "excuses and smoke and mirrors."
"Australians deserve better," she says.