The HelloCare team was recently contacted by a carer from Vanuatu, Felma Katawa Leitarisong.
Ms Leitarisong told us of her role caring for older people on the tiny island where she lives, Tanna. 
Though Ms Leitarisong cares for older people in much the same way we do here in Australia, there are essential differences – most notably, there are no aged care facilities. 
We asked her to tell us more, and we share her story here with you.
"In Vanuatu we don't really have an age care centre, or our government hasn't set up one yet," Ms Leitarisong told us.
"We, as ladies here, have the responsibility to look after our old people. 
"Back in the islands, we don't have facilities for old people.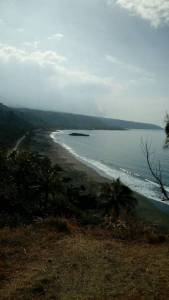 "What I did on my little island Tanna, I care for widows and any old people around us, at the age of sixties to seventies. 
"In my little village, I have my own mother, my aunt who are widows, and other close relatives and friends. 
"What I usually do is cook for them, fetch the water for them to bathe, wash their clothes and more. 
"So compared to you people, it's a much easier life (in Australia), as you have proper facilities like toilet, bathroom and have sponsors, I guess, who are supporting your age care. 
"But with ours, it is a struggle to feed these old people and widows. We have our gardens where our survival comes from, particularly root crops, vegetables and legumes. 
"I am proud to do this, this kind of job not so many people love to do it. 
"I haven't been to any training or nursing to learn to do this. It's just me from the inside, a passion to help old people. 
"I pity old people and it makes me cry alone at times when there is no help as our hospitals are quite far from the village. We are in remote areas. Sad, as some of my grandparents, even other old people, had died. 
"We are not being sponsored by anyone, it's just what I have in my pocket. I don't have a good job either to support every old person on my island. 
"Now, as am online, I have arrived in our main town Port Vila to look for a job. I have to work to earn enough to go back to my island. There is a big need to support old people, widows and more. 
"There is a lot to be done and taken care of. There are old people, widows and broken homes, and I am one of these people. A struggling mother trying to help others, and also help my child.
"I am in tears as this is painful but I don't give up. I do hope something will happen to help our people." 
– Felma
Image: Felma Katawa Leitarisong, supplied.