A dedicated ambulance has been made available to grant terminally ill people their dying wish.
In a new program, Ambulance Wish Queensland will give people with a terminal illness the resources, specialist transport, and medical care they need to fulfill their final wishes.
The first person to be granted a wish was 92-year-old Betty Dowsett, who this week was able to leave her palliative care room to spend a few hours in the sun at Brisbane's City Botanic Gardens.
Volunteer paramedics took her on the short outing, which was a precious opportunity for Ms Dowsett, a mother of eight, grandmother of 19 and great grandmother of 29, to create one final precious memory.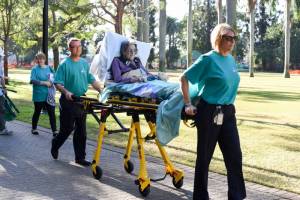 Her wish was to see some of her favourite flowers, chrysanthemums and carnations, and to have a passionfruit ice cream.
Escorted by Queensland Ambulance Service paramedics who volunteered their time, Betty also met the State Minister for Health and Ambulance Services, Steven Miles, who brought her the treasured ice cream.
Paramedic Darren Lawrence said, "The smile on Betty's face has been priceless. This is just a great opportunity that everyone should get involved with. Betty has just been so kind and is such a loving person. She is so grateful for us to do this for her, it just makes everyone feel good. It's a gift."
An Australian first
The concept of having paramedics helping those with a terminal illness fulfil a final wish began as a passion project for Queensland mother, Anne-Marie Dykstra. She became consumed by the idea after seeing the image of two Hervey Bay ambulance officers taking a dying woman to the seaside for a lasst look at the ocean.
Ms Dykstra began to look into similar stories, and came across the Dutch charity, Stichting Ambulance Wens. 
"So many people have experiences where someone they love, the last moments of their lives have been horrific," Ms Dykstra said.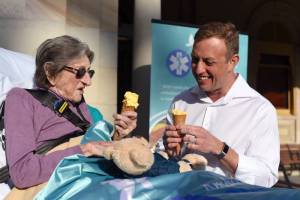 "I just felt we could do something here that could connect people in their dying days and bring something truly wonderful into our community."
Ms Dykstra spent two years trying to establish a program in Australia, but when she met the CEO of Palliative Care Queensland, Shyla Mills, that the idea quickly became a reality.
Ambulance Wish Queensland is now up and running as part of a collaboration with Stichting Ambulance Wens, and a UK charity, The Ambulance Wish Foundation UK.
It's the first time a program of its kind has been available in Australia.
Decommissioned ambulance and $50,000 provided by government
The Queensland government has provided a decommissioned ambulance for the purpose, and has contributed an initial $50,000 towards the program, which is a partnership between the Palaszczuk government and Palliative Care Queensland.
Requests for wishes open 1 December 2019
Requests for wishes will officially open on 1 December at Palliative Care Queensland's annual dinner. 
Wishes will be open to those living within 100 kilometres of the Brisbane CBD. 
Obstacles have prevented ambos from fulfilling final wishes
Mr Miles told media, "This dedicated ambulance will grant wishes to dying Queenslanders. 
"We were all touched when some Harvey Bay ambos took a patient to the beach for one last time." 
"She was able to see Fraser Island in the distance and smell the salty air before going home for the last time."
Mr Miles said many of the ambulance drivers he has spoken to have their own story about granting end-of-life wishes, but they have often had to "sneak around" to do it, or because they're so busy, they haven't been able to grant the request.
"Palliative Care Queensland's Ambulance Wish Queensland program is essentially trying to create a sustainable program for these acts of kindness," he said in a statement.
"Fulfilling the final wishes of people can be challenging, as you could be transporting someone who can't walk, or sit in a chair, or who might require continuous oxygen or other medical appliances and support.
"With the Ambulance Wish Queensland program, medically trained volunteers, adapted ambulances, and necessary equipment will transport people to fulfil their wish successfully and safely."
We are all touched by loss…
Palliative Care Queensland Chief Executive Office, Shyla Mills, said, "Every Queenslander is touched by loss, dying and grief at one point in their life. 
"This new program will enable us to reach more people and help Queenslanders living with a terminal illness fulfill their final wishes."
"Excellent palliative care includes working with clients to help them identify realistic goals or wishes and then supporting them to fulfill these." 
"A wonderful opportunity to volunteer"
Ms Mills said the program is recruiting and training volunteers to help, and is also seeking support from donors, sponsors and partners.
"This program is not only beneficial to the wish recipient and their families, it is a wonderful opportunity for health professionals to volunteer and be a part of the last wish experience," she said.
Volunteers are required for:
Regular vehicle maintenance

Regular stretcher maintenance

A support vehicle

Vehicle fit-out

Vehicle marketing/stickers

A warehouse close to Brisbane CBD

Ability to store up to two vehicles indoors and training room for up to 30 people

Marketing locations

Printing and promotional items

Office equipment set up for staff and volunteers
If you would like to watch a video about the Dutch Stichting Ambulance Wens Nederland program, click here.
If you'd like to find out how to volunteer, click here.