One of the world's most respected aged care leaders was in Sydney this week to discuss how her organisation has navigated an increasingly constrained and complex aged care environment.
Jane Ashcroft is the chief executive of England's largest largest not-for-profit provider of care and housing for older people.
A highly respected leader and commentator on ageing and aged care, in 2013, she was awarded a Commander of the Order of the British Empire in 2013 for her services to older people.
Anchor Hanover, the organisation Ms Ashcroft leads, has more than 50 years of experience and thousands of homes all over England, and is widely considered to be an aged care success story. 
This week Ms Ashcroft presented the two-day Quality Excellence in Care Masterclass in Sydney, an event hosted by Ageing Asia. 
She sat down with HelloCare to discuss how Anchor Hanover has tackled some of the problems facing aged care in England, which are many of the same issues we face here in Australia.
The benefits of economies of scale
With Australia's aged care sector poised for greater consolidation in the coming years, Ms Ashcroft spoke about the benefits of scale.
"We are quite a large organisation and we have a range of different types of services, so we do have the opportunity to be very efficient about procurement, and to get some good deals. 
"We are very clear about services needing to be sustainable; we're very clear about what the cost of delivering our services is." 
When operations can not operate efficiently, homes occasionally have to be closed.
"On a very small number of occasions we've closed services that are loss making because we know it's not viable to carry on supporting a loss-making service, and it runs the risk of creating losses in other services as well," Ms Ashcroft explained.
It's important to have "grown-up conversations" about the true cost of delivering services, Ms Ashcroft told HelloCare.
Having good data, and making sure the data is clear, is also key, she said.
"We have in the last couple of years really focused a lot on gathering the right information and being very clear, and being able to look at the costs of comparative services within our organisation and externally, so we know what good looks like", Ms Ashcroft said.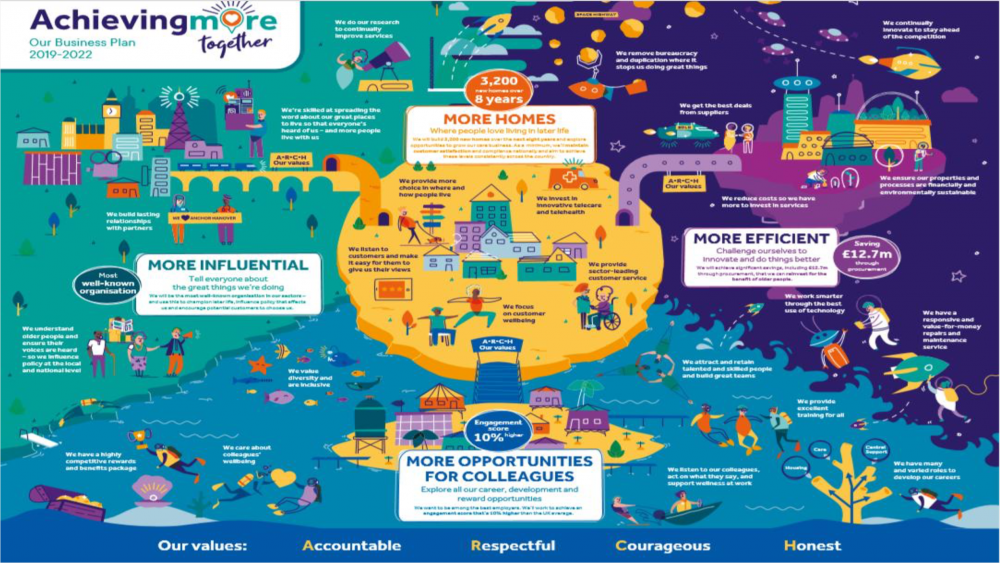 Engaging with a new regulatory framework
In recent years, England has tightened its regulatory regime in a process similar to that Australia is going through now.
Ms Ashcroft said she felt it was important that Anchor Hanover was engaged with the process of change and regulation.
"It's important to have proportionate, robust regulation for such sensitive services."
"It's important that my managers can engage locally with regulators and can see that we're all on the same side, and that we all have the same interest, which is providing good quality services," she said.
She cautioned against being "intimidated" by regulation, but rather to see it as an "opportunity". 
Anchor Hanover has worked closely with local managers to make sure they understand what the regulator expects, and that they can demonstrate they are meeting requirements when the regulators "walk through the door". 
"I'm always delighted now when I go to a service and the manager says to me, 'I'm desperate for the inspectors to come. I'm ready to show them all this stuff," said Ms Ashcroft, laughing.
Anchor Hanover aligns staff KPIs with the items monitored by the Care Quality Commission, to ensure their goals are in line and so it's "simple" to see how they are going against the standards.
Tighter regulation has been a positive for the industry, Ms Ashcroft said.
"If a more robust regulatory environment has removed the poor provision from the market, then that's a good thing," she observed.
Occasionally Anchor Hanover has had a difference of opinion with the regulator, and has not shied away from addressing the issues. "We do that in a respectful and but robust way," Ms Ashcroft explained.
Creating a positive work culture
Ms Ashcroft is well known for prioritising a positive workplace culture among her staff.
"I know from the residents and the people who use our services the most important thing to them is the people they interact with," Ms Ashcroft explained.
"You can build beautiful buildings, but if the people working in them aren't providing great services then it doesn't improve people's lives."
Ms Ashcroft said she expects the workforce to be treated the same way clients are treated.
"You have to say to people 'we'll treat you with integrity and honesty, we'll invest in your development, we will give you the skills to do a good job.' 
"In my experience, people want to do a good job. They want to be proud of what they do, and they want to see they're having a positive impact on people's lives. 
"To me, (a positive workplace culture) is a really strong business driver – it's not a fluffy thing," Ms Ashcroft explained.
But being happy at work and supported at work means different things to different people, Ms Ashcroft said. 
"I think it's also about understanding your workforce and knowing the different drivers that matter to people, and investing in communication, because no matter how much you do, in a large workforce people always say communication could be better."
Ms Ashcroft said organisations need to listen to their workforce, as often this will be where good ideas come from.
Recognising staff's contributions was also vital. 
"It's not a sector where we're able to pay people a lot of money, but recognition comes in many forms, so really rewarding people, thanking people, and recognising the positive" was important.
Dealing with poor performance was also key, she said, because good performers will become frustrated if poor performers are not managed appropriately.
Unprepared for an ageing population
No nation is adequately prepared for the changes brought on by an ageing population, Ms Ashcroft said, and compared the demographic trend as having an equivalent impact on society as the Industrial Revolution.
"I can't see a country that's really getting to grips with it," she said. 
"It's a complete rebasing of society and the economy, and therefore the political environment."
"The challenge for us in the sector is to see examples of good practice and try to share those and to help governments to engage with some of these difficult issues," she said.
Ms Ashcroft also said her organisation can amplify the voices of older people, and help them be heard by politicians.
"We're always keen for the people who use our services to express their views."
The Quality Excellence in Care Masterclass was hosted by independent law firm Thomson Geer, and was chaired by Thomson Geer partner, Arthur Komoukelis. Thomson Geer is one of the few firms in Australia with a dedicated national Aged Care and Retirement Village practice, and was recently recognised as Best Lawyers 2019 'Law Firm of the Year' for its expertise in Retirement Villages and Senior Living Law.