Press release from the Department of Health
Residential aged care facility staff and residents are a priority under the Australian Government's COVID-19 Vaccines National Rollout Strategy and will be among the first people in Australia to receive the COVID-19 vaccine in Phase 1a.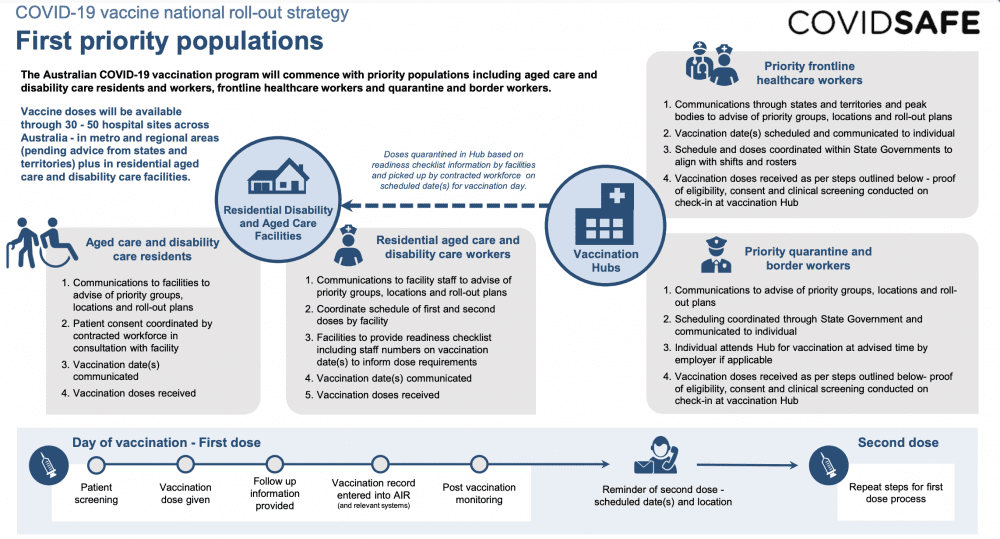 A staged rollout of the vaccine is expected to commence from mid-February 2021.
COVID-19 vaccines will be safe and free for everyone living in Australia.
The Australian Government strongly encourages everyone to get vaccinated.
A COVID-19 vaccine is just one part of keeping the community safe and healthy.
It is important for everyone to continue COVIDSafe practises.
Keep up to date with trusted information
We will continue to provide updates as more information becomes available.
We will keep you informed about COVID-19 vaccines and the rollout via this newsletter, and more information will be distributed to residential aged care facilities, people in residential aged care, aged care sector peak bodies and stakeholder groups, and the general public soon.
You can find more information, including translated information, and subscribe to receive the COVID-19 Vaccines Updates on our COVID-19 vaccines website.
You can also get regular updates via the Department of Health's social media channels on Facebook, Twitter, LinkedIn, Instagram and YouTube.